Mobile Shredding in Santa Monica
With Santa Monica Shredding's contractor's secure mobile shredding service, you get the convenience of a high-powered shredding plant that can be completed right at your Santa Monica curbside. Mobile shredding is totally self-contained- they'll shred in an hour what it would take you a month with a $20 office shredder.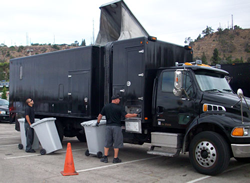 Our Southern California partners offer regular monthly service or one-time purges- shredding professionals transfer your secure documents from locked bins and transport them to our mobile shredding truck. If you prefer to watch your documents being shred, an on-site mobile shredding solutions are for you, from one to one hundred boxes.
Locked bins can be placed in your Santa Monica office for you to collect all your documents, then come by on a regular schedule to pick them up and shred them, helping you protect your important business data from getting into the hands of identity thieves or corporate spies.

How Santa Monica Shredding's Mobile Shredding Service Works
STEP 1: Collect all the documents you would like shredded in secure bins. Don't worry about paper clips or hanging folders. 
STEP 2: A tuck comes to you, and your documents are shredded into a sealed compartment in the back of the truck. You can witness this completely secure procedure if you wish.
STEP 3: You are given a Certificate of Destruction to verify the time, place and weight of the shredded items.
STEP 4: The shredded paper is compacted and recycled.
It's really that easy- and you don't even have to leave your office!

Get Free, No-Hassle Quotes on Document Shredding in Santa Monica Today!
Santa Monica Shredding can help you find a secure mobile shredding service for your business anywhere in Santa Monica or Los Angeles. To get started, give us a call at (310) 882-5448, or just fill out the form to the left.