Santa Monica Shredding
Santa Monica Shredding is dedicated to providing cost-effective shredding solutions for your home and business. We understand the importance of the information stored on your sensitive documents and the need for the highest levels of security. Our solutions comply with California and federal privacy regulations.

About Santa Monica Shredding
Santa Monica Shredding offers numerous shredding service levels designed to meet virtually every client's requirement at reasonable prices.

We are prepared to meet your destruction needs at every level. Many of our offices start as "one-time" purges at the end of the year and grow into monthly shredding clients. We strive to provide the most competitive rates in town.

Mobile shredding is a great option for businesses or personal shredding. There's a lot of reasons why this is true. Learn about five of the most important reasons to switch to a mobile shredding service from business owners throughout the country. Click here to learn more!

Santa Monica Shredding is your source for secure, reliable offsite and onsite shredding services in Southern California. We can help protect your company, and keep you in compliance with state and national shredding laws.

Let us find a local contractor who will securely dispose of your documents as often as you need it. To get a free, no obligation quote on document shredding today, fill out the form to the top or give us a call at (310) 882-5448!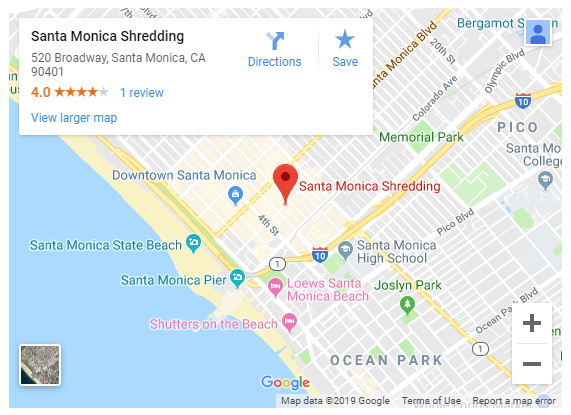 Get Free Quotes on Shredding Services Today
Services Available at Santa Monica Shredding
Service Options Available in Dallas
Santa Monica Shredding offers a multitude of options when it comes to your paper shredding needs—our contractors can pick up your documents to be shredded onsite or offsite as often as you want. Any service offered has several different options:
Route Service – Daily, weekly, or monthly scheduled shredding service is available. Secure, locking shred bins are provided for free.
Purge Service – For those requiring annual, one-time or occasional shredding service, we recommend a specially priced purge program. Costs are based on the volume shredded.
Secure Shredding – Every shredding service we provide is secure and compliant with HIPAA, FACTA, and all applicable state and local laws.