Hard Drive Destruction in Santa Monica
Paper files are becoming extinct- and these days, they're not the only type of media that contains sensitive information. Hard drives in business computers contain years of data that needs to be securely disposed of. To do this, your hard drives have to be completely unrecoverable. The easiest way to do this is to destroy them before they leave your possession.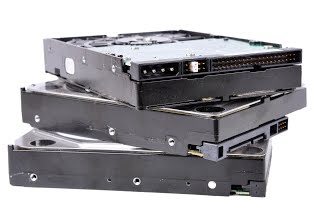 In multiple industries, ensuring your data doesn't fall into the wrong hands is required for compliance with federal and California privacy laws. Keep in mind that deleting files isn't as secure as you think- identity thieves can access and recover that information in minutes.
The hard drive shredding process focuses on three main steps.
Pick up or drop off the hard drives.
Destroyed by an industrial shredder.
Certificate of destruction for reassurance.
The entire service remains secure and upholds all industry regulations or laws. The shredded remains are then recycled while abiding with EPA and hazardous waste state laws. Rest assure there will be complete compliance and confidentiality.
To be sure the information is destroyed, Santa Monica Shredding offers hard drive shredding service options that physically destroys the hard drive. Our contractors offer onsite or secure plant shredding and destruction, then the pieces are then melted down for metal recycling.

Hard drives are present in more business machines than just computers in your Santa Monica office. Copy machines and fax machines also contain sensitive information that is usually stored on hard drives that must be removed before they're taken out of service.

Santa Monica Shredding also offers electronic media destruction options that include magnetic media, CDs, tapes, disks and more. Let our partners take care of your discarded drives- we'll make sure they never fall into the wrong hands.

Get Free, No Obligation Quotes on Hard Drive Destruction in Santa Monica
To learn more about the secure hard drive shredding services available at Santa Monica Shredding, please either request a free quote today, or simply give us a call (310) 882-5448.